Description
The Pac-Man Smash takes the conventional game of air hockey to new levels of excitement!
The game begins with one regular sized puck with a score of 100 points. Once the first goal is scored, the puck automatically returns to the other side of the playing field. During the game dozens of mini pucks worth 30 points each are spilled onto the playing surface, providing non-stop action! The mini pucks are spilled onto the surface again and again when the players least expect it causing a scoring frenzy!
Designed for four players, the Pac-Man Smash includes protective nets to prevent the pucks from flipping over the side of the table and an electronic scorer.
Our carefully reconditioned Pac-Man Smash includes all the accessories you need to get started including a full set of large and mini pucks!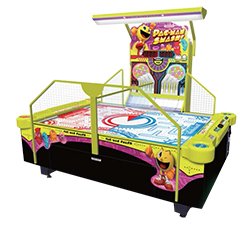 Features:
Accommodates up to 4 players
Cabinet decorated with unique art decals
Pacman inspired playing field
Electronic scorer
Puck shoot – provides a 'slide' for mini pucks to slide onto the playing field
Steel nets – prevent the pucks from flipping off the table
Free Accessories:
4 x large bats
A complete set of small and large pucks